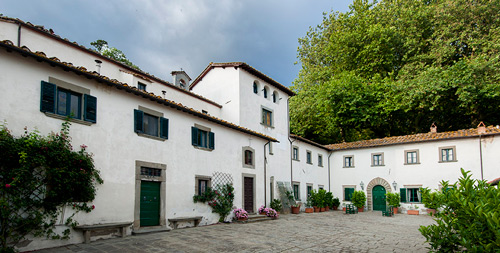 the Javello Estate is located among the lovely hills between Pistoia and Prato, at the foot of the Appennino Tosco-Emiliano, about 550 meters above sea level. It is 40 km far away from Florence, 15 km from Prato and 20 km from Pistoia.
Its origins are very ancient and go back to the year 1000, when a Lombardic family named Chiavelli (that is why "Javello"), decided to built there their fortress. During the centuries, the property passed to many important families before being inherited by the Borghese family of Rome in the 19th century.
Nowadays the Fattoria di Javello is still a Borghese property. Maria Josè Borghese Savino di Auletta still manages the property with her son Vincenzo, his wife Dilia and their two children Giulia and Alberto. .
Starting from 1100 up to a great part of 1200, the emperor Federico II gave this place to the sons of Guido Guerra Lord of Montemurlo, keeping anyway this place under the control of Florence. In 1325 the property passed instead to the powerful Strozzi family. The same year, on the 28th of November, the fortified tower of Chiavello was partially destroyed by Castruccio Castracane degli Antelminelli, member of the Ghibelline faction and enemy of Florence.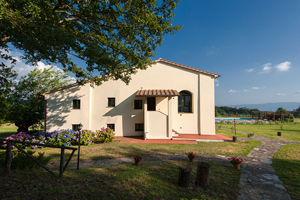 In the 16th Century the property no longer had the feature of a medieval turreted building, but that one of a country house with one enclosed tower, a church and two rural annexes.
By the middle of the 19th Century, after being inherited by many other important families, the property went to Marco Covoni Girolami, collaborator of the Granduke Pietro Leopoldo, whose granddaughter/nephew Maria married Giuseppe Borghese, descendant of Pope Paolo V.
Until the middle of the 20th Century, the farmhouse was totally indipendent with an own production of wheat, oil, wine, vegs, fruit and a livestock of dairy and meat animals. Thanks to the furnaces and the stone quarries, the property could also produce nails, bricks, jamps and sheets for flooring. Moreover, with the luxuriant woodland heritage, there was also the possibility to produce lintels, poles, firewood and carbon.
The Farm produces extra-virgin olive oil and vegetables officially certified as biological.